Product Description
DIN Standard F4/F5/F7 Stainless Steel Flanged Gate Valve PN10/16/40/64
DIN
Flange
Gate valve
is manufactured in EN/DIN standard for Europe market mostly. For EN/DIN standard, there are many face to face dimension series, for gate valve, generally is F4, F5, F7 length. DIN flange gate valve has rising stem and non-rising stem types, flexible wedge and solid wedge for different medium. And there is trim table for gate valve trim materials. Clients could choose trim material according to body material and medium type or temperature.
The distinct feature of a gate valve is the sealing surfaces between the gate and seats are planar, so Gate Valves are often used when a straight-line flow of fluid and minimum restriction is desired. The gate faces can form a wedge shape or they can be parallel. Gate valves are primarily used to permit or prevent the flow of liquids, but typical gate valves shouldn't be used for regulating flow, unless they are specifically designed for that purpose. Because of their ability to cut through liquids, gate valves are often used in the petroleum industry. For extremely thick fluids, a specialty valve often known as a knife valve is used to cut through the liquid. On opening the gate valve, the flow path is enlarged in a highly nonlinear manner with respect to percent of opening. This means that flow rate does not change evenly with stem travel. Also, a partially open gate disk tends to vibrate from the fluid flow. Most of the flow change occurs near shutoff with a relatively high fluid velocity causing disk and seat wear and eventual leakage if used to regulate flow. Typical gate valves are designed to be fully opened or closed. When fully open, the typical gate valve has no obstruction in the flow path, resulting in very low friction loss.
Specifications:
| | |
| --- | --- |
| Product Name | Cast Steel DIN Standard Flanged ends Gate Valve |
| 1. Material | SS304/316/304L/316L ( CF8/CF8M/CF3/CF3M), WCB, WCC, LCB,LCC,WC6,WC9, C5,C12, etc |
| 2. Size | 1/2''~2'' ( DN15~DN50) |
| 3. Thread standard | ISO9001 & CE, TS |
| 4. Port | Full Port |
| 5. Working Pressure | PN10~PN100 |
| 6. Face to face dimension | DIN3202 F4/F5/F7/F15 standard |
| 7. Connection Ends | RF, RTJ, FF, Butt Welded. |
| 8. Type | Rising Stem & Non-Rising Stem |
| 9. Working Temp. | -29~425℃, or according to customer requirements for different industry. |
| 10. Suitable Medium | Water, Natural Gas, Oil and some corrosive liquid |
| 11. Operated | Handwheel, Gear Operated. |
| 12. Inspection & Testing | According to EN12266 |
| Shipment |   |
| Delivery Time | 15~20 Days |
| Package | Standard Exporting Plywood Case |
| Shipping Port | Ningbo/Shanghai, China |
| Shipping Terms | Exw, FOB, CFR, CIF, etc. |
| Payment Terms | T/T, Western Union, PayPal, etc. |
|   | 30% prepayment, 70% balance paid before shipping or against copy of BL |
| Country of Origin | Wenzhou city, China |
| Production Capacity | 6000 ton/year |
| MOQ | 10 PCS/size |
Features:
1. Drive unit is made to user's request if not specified handwheel drive will be used.
2. Top-mounted stem nut can prevent stem disc from falling off when valve is at open position and handwheel is taken off.
3. Packing uses flexible graphite for dependable sealing performance.If requested by users,packing spacer ring and greasing mechanism can be available.
4. Upper seal design to ensure dependable packing and sealing when valve is fully opened.(Replacement of packing under pressure is not recommended)
5. Lift stem,with stem and disc connected by t-slot,and stem T head intergrally forged to ensure sufficient strength of joint.
Technical Specification:
1. Design and Manufacture: DIN3352
2. Inspection and Test: ISO 5208、EN12266
3. Flanged ends dimension: EN 1092-1、DIN2544 PN25、DIN2545 PN40、DIN2546 PN64
4. Butt-welded ends dimension: EN12627
5. Face to face and end to end: DIN3202、EN558-1、ISO5752
6. Pressure-temperature ratings: DIN2401
Technical Descriptions:
Construction
The construction of steel gate valves of MSA corresponds to API 600 and BS 1414. Gate valves are yoke, flanged or welded with unnarrow flow rate and with flexible or fixed wedge. Bodies, covers and yokes are cast. Wedges could be forged or cast. All wedges are guided. Sealing seats are bolted or welded into the body. Overlays in seats depends on Trim. Valves have rising non-rotative spindle and bolted joint of body-cover. Standard spindle threads are ACME2G-LH.
Operation with a handwheel. On the basis of mutual agreement, the gate valves can be operated by angle transmission, electric actuator or Pneumatic Actuator. For easier control the gate valve with larger diameters are equipped with bearings. Sealing material is pressed rings from expanded graphite and graphited plaited rings. The properties of gate valve packing meet the requirements of the directive Clean Air Act, Amendment from 1990. The gate valves can be also equipped with: drainage, venting, relief from interspace and bypasses, on the special customer´s request.
Design Dimension
The dimensions of standard design are stated in the table below.
Material design
The gate valves are supplied in different material variants.
Assembly
The yoke gate valve can be assembled in any position into the pipeline.
Testing
The gate valves are subjected to pressure tests according to the standard API 598: on strength and tightness, tightness of backseat, closure tightness by low pressure, closure tightness by high pressure (on request).
Competitive Advantage:
1.We are manufacturer, not a trading company, we can control every production process to guarantee the quality of our products.
2.18 Months warranty after delivery.
3.Offer free samples for testing before orders.
4.We have convenient shipping sea port, and standard exporting carton boxes & plywood cases.
5.100% leakage testing.
6.100% inspection & testing for every production process before delivery.
7.Light torque for easy operation & long service life.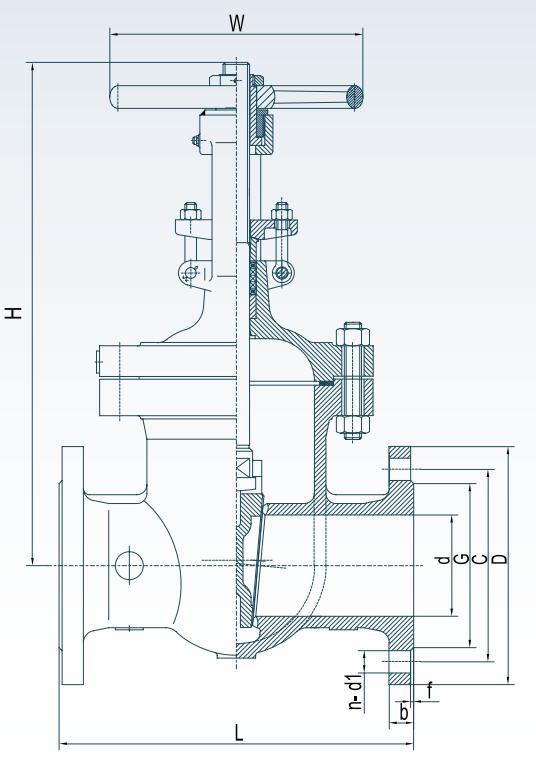 Part Name

GP240 GH

Stainless Steel

Stainless Steel

Body

1.0619

1.4308

1.4408

Bonnet

1.0619

1.4308

1.4408

Wedge

1.4308

1.4408

≥DN200=1.0619+ER410

Stem

13Cr

18-10 CrNi

17-12-2 CrNiMo

Stem Nut

Austenitic cast iron

Austenitic cast iron

Austenitic cast iron

Hand Wheel

cast steel

cast steel

cast steel

Gland Flange

1.0619

1.4308

1.4408

Spacer

13Cr

CrNi

CrNi

Gland

13Cr

CrNi

CrNi

Gland Packing

Graphite

Graphite

Graphite

Gasket

Spiral Wound Graphite

Spiral Wound Graphite

Spiral Wound Graphite

Stud

25CrMo4

A2-70

A2-70

Nut

25CrMo4

A2

A2

Eye Bolt

25CrMo4

A2-70

A2-70

Nut

25CrMo4

A2

A2

Pin

C25

CrNi

CrNi

Split Pin

CrNi

CrNi

CrNi

Handwheel Nut

C25

CrNi

CrNi

Screw

C25

CrNi

CrNi

Grease Fitting

C25

CrNi

CrNi

Name Plate

stainless steel

stainless steel

stainless steel

Rivet

stainless steel

stainless steel

stainless steel